Customer relationships are key to the success of a business. Are your customers happy or satisfied? Do you know how your customers feel about your products or service? Today's competitive marketplace requires every organization to listen to the voice of its customers, which can be captured with a customer survey.
There are many benefits to surveying your customers. Conducting customer surveys is an inexpensive way to gather valuable customer feedback and input on companies' products and services. These online, customer surveys also act as a source of innovative ideas, and at the same time providing constant feedback on the company.
The benefits of conducting a customer survey:
– Increase customer retention: A well-laid out customer survey allows organizations to obtain customer feedback which can tremendously help to improve customer retention.
– Performance feedback: Customers are the best judge of companies' product or services and hence a customer survey can help companies decide on which products and services to need improvement.
– Innovative ideas: Customers can be the best source to derive new innovative ideas. It's more often the customers who suggest new ideas in order to improve a product or launch a new one.
Use SurveyExpression for Consumer and Customer Surveys
In today's global marketplace, obtaining regular customer feedback is essential for companies looking to consistently provide excellent customer service and stay ahead of its competitors. Customer surveys conducted with the help of survey software can help companies gather valuable information which can be analyzed more accurately and in less time than using traditional survey methods.
Why play the guessing game? Consumer surveys provide valuable feedback on who your consumers are and what they think of your product(s). Consumer Surveys let you discover opportunities to:
– Improve your product
– Increase profit margin
– Find untapped markets
– Set price points
– Identify new store locations
When conducted properly and in a timely manner, consumer surveys can have a direct effect on a company's bottom line.
Consumer surveys help you understand who is buying your product(s) and why. Knowing the demographics of your current target market can identify potential new markets. Discover why consumers are choosing your product over your competitors and stop making assumptions. Make informed decisions when planning your marketing strategy or product design based on real data.
Product surveys
Product surveys are used to make important decisions about product design, product selection, and product marketing. These are useful when determining whether to change a product line or re-evaluate pricing.
Questionnaire template: Product survey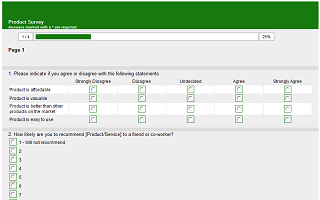 Consumer satisfaction surveys
Collect consumer opinions about your product and discover opportunities on how to improve it. These surveys provide feedback on your company, product, customer service, ratings, and intention to return. They can help you understand consumer habits and preferred shopping locations.
Questionnaire template: Consumer survey